The autumn season is finally here in Kyoto as we enter October.
In Japan, it has long been called the "autumn of art," and many art-related events are held in various places in autumn.
This time, we would like to introduce two major art fairs that will be held in Kyoto in October.
The first is "artKYOTO", held at the world heritage site Nijo Castle since 2019.
"artKYOTO" is an art fair where artworks carefully selected by domestic and international galleries and art dealers are displayed and sold, and is an attempt to communicate the possibilities of art from Kyoto, which has been the capital of Japan for more than a thousand years, to the world.
More than 20 galleries and art dealers were exhibiting at the Ninomaru Palace Kitchen/Goseidokoro, a building with magnificent beams and a combination of earthen floor and wood floor inside Nijo Castle, which has been designated as an important cultural property of the country. Works from various genres such as fine arts, crafts, modern art, and contemporary art will be exhibited and sold at the Southeast Corner Tower.
artKYOTO 2023
Exhibition Period
Fri. October 6 − Mon. 9, 2023
Fri October 6 noon – 7 pm
Sun. October 8 noon – 7 pm
Mon. October 9 11am – 4 pm
* Private view to be held on Thu. October 6 and Sat. October 7
Venue
Former Imperial Villa Nijo-jo Castle
Ninomaru-goten Palace Daidokoro & Okiyodokoro (Kitchen)
Tonan Sumi-yagura (Southeast Watchtower)
Ban-sho(Guard House)
541 Nijojo-cho, Nijo-dori Horikawa Nishi iru, Nakagyo-ku, Kyoto
Organizer
artKYOTO 2023 Executive Committee
(Kyoto City, ART TOKYO ASSOCIATION)
URL
https://www.artkyoto.jp/en
The other is Art Collaboration Kyoto (ACK), also held annually at the Kyoto International Conference Center.
ACK has been held twice before as one of Japan's largest international art fairs, based on the concept of "collaboration" and featuring contemporary art and collaboration.
For this third edition, program director Yukako Yamashita has adopted "Visions of a Torn World: Circulation and Coexistence" as the curatorial theme in order to live in a new world after the division of the Corona Disaster, and has invited new selection committee members from overseas and a total of 64 The exhibition will be held with a more international flavor, welcoming new members of the Selection Committee and a total of 64 galleries (from 24 cities in 16 countries) from abroad.
Art Collaboration Kyoto(ACK)
Period
Sat. October 28 − Mon. 30, 2023
Preview: Fri. October 27 *by invitation only
Sat. October 28 noon – 7 pm
Sun. October 29 11 am – 7 pm
Mon. October 30 11am – 5 pm
Main Venue
Kyoto International Conference Center
Takaragaike, Sakyo-ku, Kyoto 606-0001 Japan
Organizer
Art Collaboration Kyoto Executive Committee
URL
https://a-c-k.jp/en/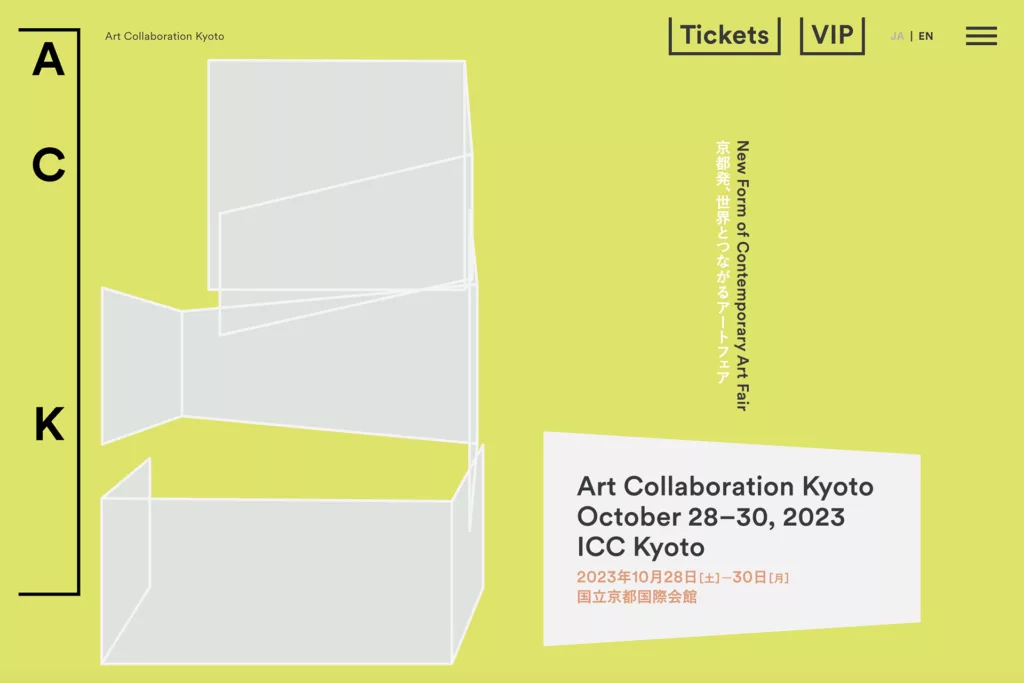 Kogei Art KYOTO will hold a limited-time exhibition in conjunction with Art Collaboration Kyoto (ACK).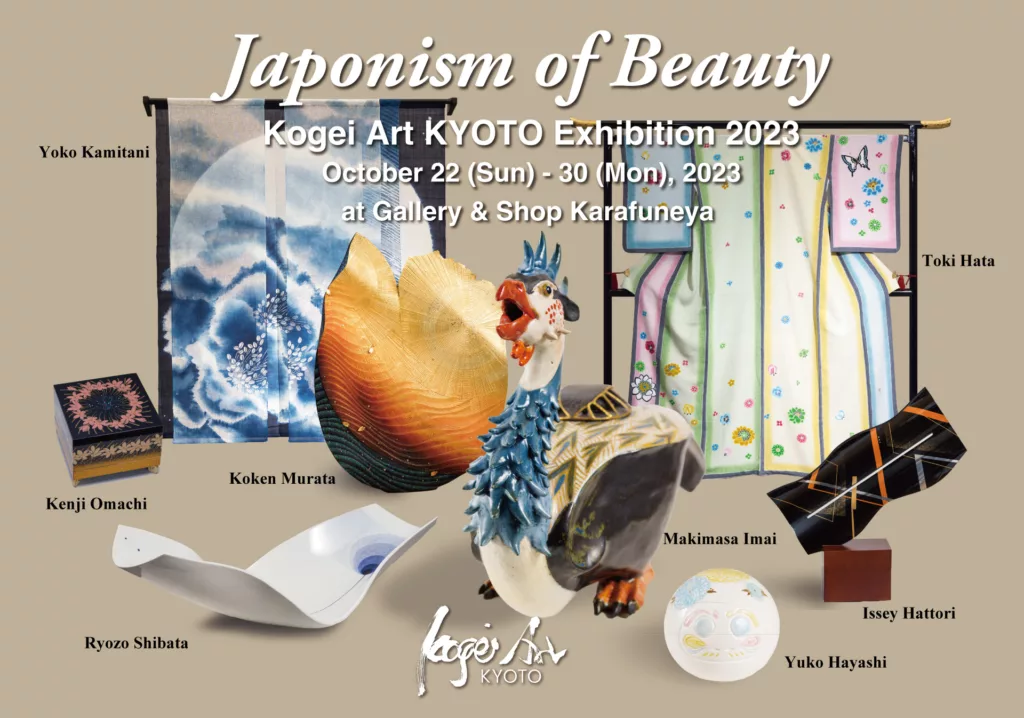 For more details, please click here.