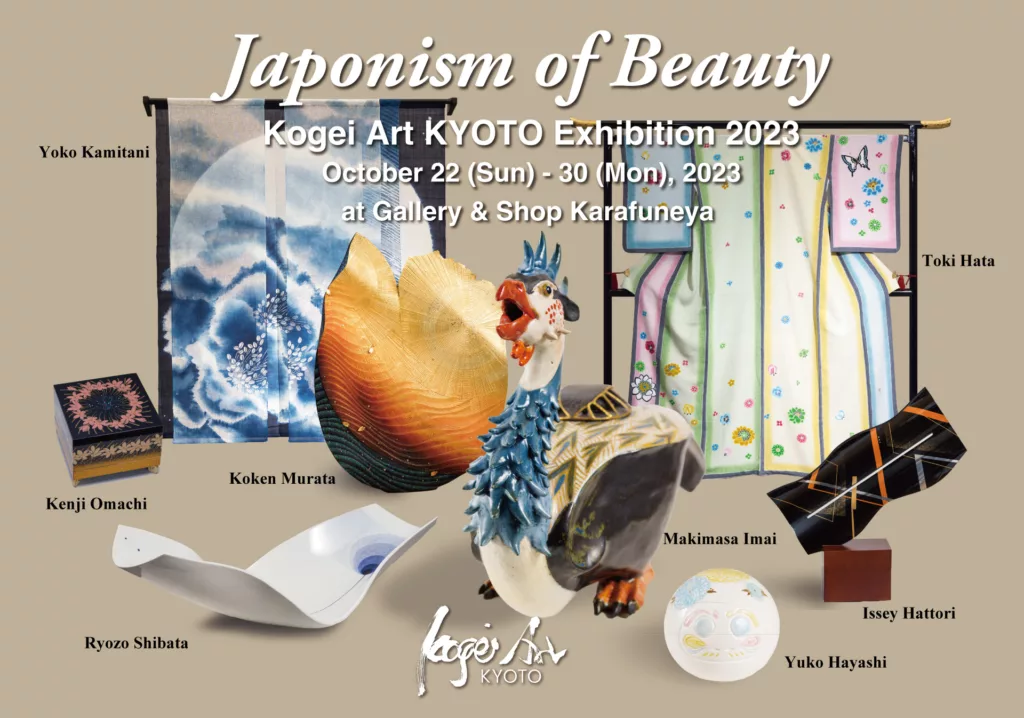 This is a special exhibition of works currently on display at Kogei Art KYOTO, a website launched in May of this year to promote Kyoto's kogei artworks to the overseas market under the theme "Kogei Art to the World.
Japonism of Beauty -Kogei Art KYOTO Exhibition 2023
| | |
| --- | --- |
| Period: | October 22 (Sun) – 30 (Mon), 2023 |
| Hours: | 10:00 a.m. – 6:00 p.m. |
| Venue: | Gallery & Shop Karafuneya (1F Karafuneya Co. Ltd.) |
| Location: | 505 Higashimonzen-cho, Higashi-Oji-dori, Nioumon-Sagaru, Sakyo-ku, Kyoto |
| Admission: | None |
| Organizer: | Karafuneya Co. Ltd. |
Exhibiting artists
What is Kogei Art?
"Kogei art" indicates a diverse range of traditional Japanese genres from dyeing and weaving to ceramics, lacquerware, metalwork, dolls, cut gold leaf, woodwork, and glass art. These were developed through reverence for Japanese culture as expressed through the spirit of elegance, compassion, and good taste, as well as the concepts of wabi and sabi, which are embodied in Buddhism, Sado (the tea ceremony), Kado (flower arranging), Kodo (the incense ceremony), and other traditional pursuits.
The term is generally used for one-of-a-kind artworks.
Kogei art emphasizes the value of materials and techniques, sometimes lavishly using very expensive and rare materials. The artworks created by Kogei artists represent sophisticated techniques passed down from generation to generation that are fused with modern sensitivities.
In today's AI and digital technology world, Kogei art is the antithesis that emerges from the abilities of the human hand, mind, and spirit.
What is Kogei Art KYOTO?
Kogei Art KYOTO is operated by the KARAFUNEYA Co. Ltd. printing company, which boasts a history of over 100 years in Kyoto.
Under the concept of the Japonism of Beauty, this EC site is addressed to overseas art lovers, which is why the site is provided in English. It features 50 Kogei artworks of 10 artists from the Kyoto Kogei Association.
These artworks are available for purchase. The average price is around US$15,000 and the most expensive piece is about US$53,000 (as of Sep 15, 2023).
In addition to the EC pages, information is also provided to introduce the appeal of Kogei art from various angles. This includes videos that show the artists working and provide messages from them in ceramics, dyeing, lacquer, dolls, and cut gold leaf.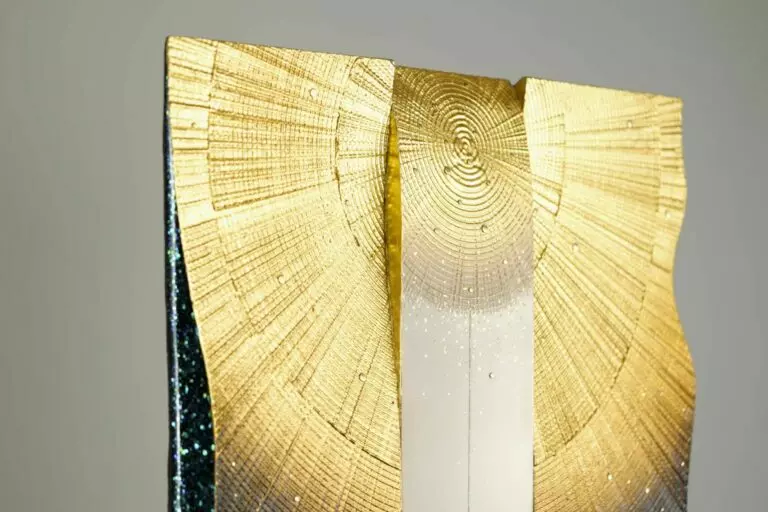 Another major feature of our EC website is that all works of art are issued NFT blockchain certificates.
KARAFUNEYA Co. Ltd. serves as the handler for NFT certificates on Startrail operated by Startbahn, Inc. which allows us to issue and manage these certificates. This not only lets you prove the authenticity of the artwork but also provides protection for the wider value of the artwork with benefits for both the artist and the buyer.

The website also lets you automatically calculate the shipping cost for individual works of art for the specified country.
We provide the complete services of an online shop that specializes in artwork, such
as packing and shipping by staff members experienced in shipping artwork to other countries.